We had the inaugural B9 Blood Bowl 'Tour-nament' yesterday*. Organised by Australia's BB head honcho, Babs, this was a tourney with four games, each at different venue on the Central Coast (about an hour north of Sydney). Tourney entry included a hire bus between the venues, lunch, dinner, and a drink at each site. Each participant also received three dwarf miniatures (more in
my next post
), and a stubby cooler with the tourney logo.
Official B9 logo.
The format was 1.2m, regen, with up to four starting skills including a double on a non-Big Guy. After each game, two extra skills could be allocated based on SPPs accrued.
My team (Nurgle)
was a Beast with Break Tackle, three Warriors (two with Block), three Pestigors (one with Extra Arms), five Rotters and three Rerolls.
The full Necrotic Corps (more players than I took to this tourney)
There were 14 participants (I think), including my Nurgle, two Dark Elves, two Necromantic, a Khemri, two Dwarf, one Chaos Dwarf, one Ogre, one Wood Elf, one Human, and two Norse. Fairly bashy, all told.
The B9 venues
The first venue was the Gosford Sailing Club. We got tables next to the large windows overlooking Brisbane Water. My first opponent was Gnome with his humans, The Corrupt Coppers. This team was designed to hurt, with a chainsaw, an ogre, and a Dirty Player. Gnome's jammy luck was with him for this game, and he inflicted three casualties on me in the first turn... it went downhill from there, and I lost 2-0, suffering 7-1 casualties... At the end of the first half, I had two players on the pitch, one of whom was face down. At one point, I almost scored but fell over on the touchdown line. At another point, I wasn't thinking, and rerolled a block dice I didn't actually need to, and came up with Double Skulls. Very silly indeed. Gnome ended up coming second overall, with two wins, a draw, and a loss.
Venue 1. Gosford Sailing Club.
The Corrupt Coppers tear Nurgle apart
We then piled in the bus, and drove twenty minutes south to the Ettalong Beach Club. My next game was against Vimes and his Arabic-fantasy Norse, The B9 Bastards. This was a great and close game, where Vimes pulled out a 2-2 draw with some crafty Dauntless Blocking to get away from my Beast. I took out the casualties 4-2. Vimes took out Best Sportsmanship for the tourney, which being a disgustingly nice guy, he's won a few times. We had lunch laid on for us, and I had a big plate of beef nachos.
Venue 2. Ettalong Beach Club
The Beast grips the Bastards as the Pestigors take it down the sideline to score
Back in the bus, and a 40 min drive along the Scenic Highway to the Shelly Beach Golf Club. My opponent here was Mathuric and his Dark Elves, the Meannesota Vikings. Despite their really nice purple paintjob, his luck wasn't with him this tourney, and he hadn't scored a casualty in the previous two games- I didn't help him. I was able to win 2-1 with a bloody grind during the second half, taking the casualties to 3-0 with a lot of knock-outs as well. His Assassin just couldn't find a vulnerable spot on my Beast. We had dinner at this venue- I had chicken schnitzel and a rhubarb crumble.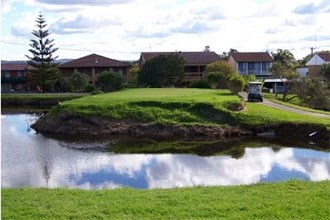 Venue 3. Shelly Beach Golf Club
The ball is loose, and the Dark Elves struggle to hold back the Nurgle Warriors
By now it was dark, and a short drive took us to The Entrance Hotel. We sat outside and I played Rabid with his Wood Elves, the Green Glade Pickers. I didn't really think I could do much to stop him, but the elven curse struck a few times (1, reroll, 1), and I didn't waste any opportunities to waste his players, especially his Wardancers. I ground the second half, ending with three of his players remaining (including a Rooted Treeman). I won 2-1 with 3-1 casualties.
Venue 4. The Entrance Hotel
The Woodies clamber past the Beast, but their success will be short-lived...
So I finished with two wins, a draw, and a loss, which took me to finish third overall, which was very pleasantly surprising. Hutcho was the overall winner, taking four wins with his Necromantic. For my prize, I won a few much-needed artists' paint brushes.
Overall, it was a long day (9am to 11pm), but the venues were outstanding and the weather didn't disappoint. I'm used to playing in sterile classrooms or bland conference rooms, but now we've been spoilt with waterfront gaming and good food. And a free beer with each game. It was good to see old friends again, and the good-natured ribbing on the bus trips added to the experience. I hope this event will continue in future years. Well done to Babs for organising everything.
I had expected Nurgle to be good in defence, and poor in offense. In practice, I found that a second half eight turn grinding offense worked better for me, and my two wins were both 2-1 (not the 1-0 I had anticipated). I did play a slow and patient game, often not moving or performing actions with some players, so that it would stymie my opponent and force him to make rolls. I really enjoyed moving my Beast to suck up opposing players with his tentacles. This team would be nasty if well-developed.
The venue pictures are from commercial websites, not by me.
*I can't recall what B9 stood for. Something like Bab's Blood Bowl, Beach, Beer, Bus and Bloodweiser Babes Bonanza.